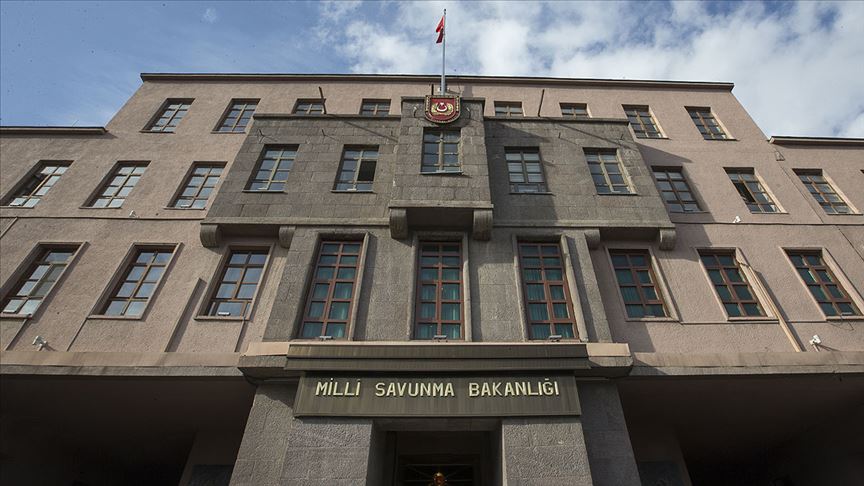 YPG/PKK terror group violates Turkey-US deal on Syria
YPG/PKK terrorists have violated Turkey's agreement with the U.S. on northern Syria, the Turkish National Defense Ministry said on Sunday.
In an official statement, the ministry said YPG/PKK terrorists, since Oct. 17, 2019, made 22 violations in northern Syria, ignoring the agreement between Turkish and U.S. officials.
"Turkish Armed Forces, in line with Turkey-U.S. agreement reached on Oct. 17, 2019, closely follows YPG/PKK terrorists' withdrawal from the region," said the ministry.
Stressing that Turkey expects terror group's exit within 120 hours as agreed with the U.S. administration, the statement said Turkey was in close coordination with the American counterparts.
In addition, a convoy of 55 vehicles entered Syria's Rasulayn city and another with 86 cars left for Tal Tamir, the statement read.
On Oct. 9, Turkey had launched Operation Peace Spring to eliminate terrorists from northern Syria in order to secure Turkey's borders, aid in the safe return of Syrian refugees and ensure Syria's territorial integrity.
On Oct. 17, Turkey agreed to pause its Operation Peace Spring for 120 hours to allow the withdrawal of terrorist YPG/PKK forces from the planned safe zone.
Turkish President Recep Tayyip Erdogan and U.S. Vice President Mike Pence also agreed on Turkey having 20 miles (32 kilometers) of safe zone south of the Turkish border in Syria.
Ankara wants to clear northern Syria east of the Euphrates River of the terrorist PKK and its Syrian offshoot, the YPG/PKK.
In its more than 30-year terror campaign against Turkey, the PKK — listed as a terrorist organization by Turkey, the U.S. and the European Union — has been responsible for deaths of 40,000 people, including women, children and infants.
Source: Anadolu Agency