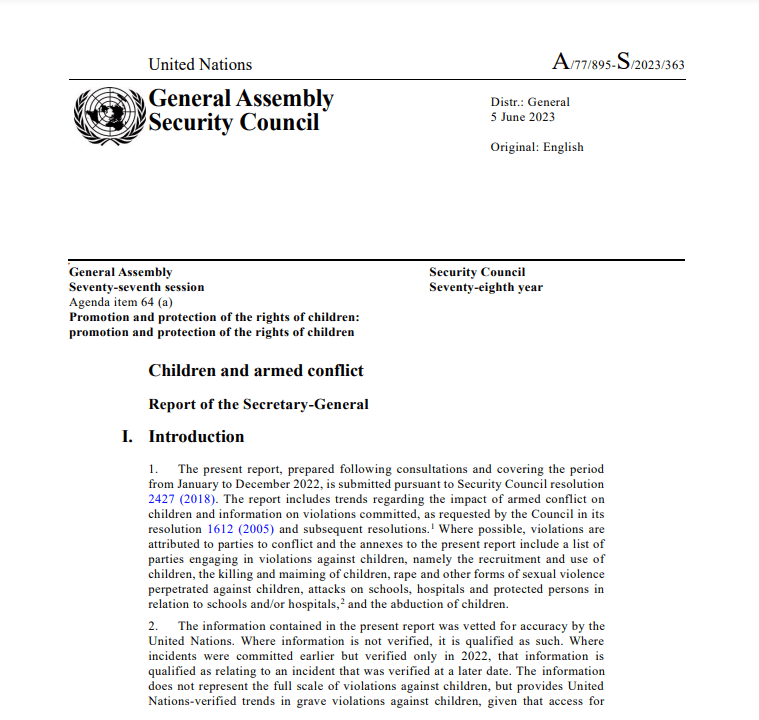 United National- "Children and Armed Conflict" Report of the Secretary – General
United National- General Assembly Security Counsil has released its 2023 Children and Armed Conflict report. AAccording to the report, A total of 32 children (18 boys, 14 girls), as young as age 11, were recruited and
used by the People's Defence Forces of the Kurdistan Workers' Party (HPG/PKK) (28) and Da'esh (4).  In addition, the United Nations verified in 2022 the recruitment and use of one boy by HPG/PKK that had occurred in previous years. Children wereused in combat and at checkpoints. 
As at December 2022, 936 children (927 boys, 9 girls) remained in detention on national security-related charges, including for their actual or alleged association with armed groups, primarily Da'esh.
The abduction of 18 children (9 boys, 9 girls) by Da'esh (10), HPG/PKK (4) and unidentified perpetrators (4) was verified. A total of six children were abducted for recruitment and use and/or sexual violence purposes. A total of 11 children were released, and 7 children remain in captivity. The United Nations verified in 2022 the abduction of six girls by Da'esh that had occurred in previous years.
https://www.securitycouncilreport.org/atf/cf/%7B65BFCF9B-6D27-4E9C-8CD3-CF6E4FF96FF9%7D/S_2023_363.pdf