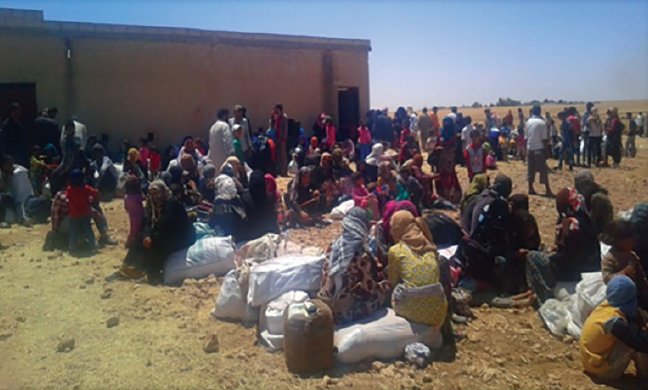 PYD/YPG systematically pressurizes civilians in the north of Syria
PYD/YPG forces thousands of local civilians to migrate, damages their houses and villages through vandalization, and displaces them by inflicting torture, fear and pressure.
*YPG displayed the bodies of approximately 50 opponents they killed in April 2016 in Ayn-Dakna, on a TIR
truck in Afrin city center to inflict pressure/fear on the people
PYD/YPG practices ethnic terrorism in the north of Syria through various means:
Displacing and forcing people to migrate;
Not allowing people to return to their hometowns they left during the conflicts;
Seizure of private properties, destroying them to create pressure and total demolition of the villages;
Arbitrary arrests, executions, rapes and tortures;
Forceful enlistment of the locals;
Plunderage of sensitive institutions such as Directorates of Land Registry and Civil Registration Offices, and annihilation of registrations;
Differentiating between the distribution of the aids being transferred to the conflict zones;
Attempt to clean the area in the north of Syria named as Rojava by the organization of other ethnic elements other than the Kurds
*"Villagers, who had to migrate due to the pressure of PYD/YPG."
PYD/YPG evacuated hundreds of Arab villages in Syria/Hasakah by means of using force against the civilians and displacing them.
PYD/YPG elements managed the evacuation of the villages by executing the civilians in the villages located in Hasakah and intimidatıng the people.
In February 2016, the organization forced 100.000 civilians residing in Mennak, Ayn Dakne, Kafer Naye, Deir Jamal, Tel Rifat and Shaykh Issa regions to migrate, and plundered their houses, agricultural lands and vehicles.
The organization launched a raid against Anik El Hava village, which is one of the Arab villages located in Hasakah/Ras al-Ayn, in April 2016 and caused the death and injury of many people. The members of PYD/YPG even sometimes slaughtered people by means of torture and execution in the Arab villages located in Hasakah.
Besides, in May 2016, they burned up about 4 km² agricultural lands in Arab villages located in the rural Hasakah/Ras al-Ayn, and held women captive. The individuals protesting these practices were battered heavily.
PYD/YPG opened fire on the civilian protestors including women, children and elders of Arab origin in Tel Abyad in June 2016. Many people were injured in this attack. A similar case happened on January 25, 2017. Namely, PYD elements opened fire on the civilians seeking to return to Siyuk village located in the east of Euphrates River, which they were forced to leave previously. In this incident, 7 civilians including women and children were killed while many people were injured.