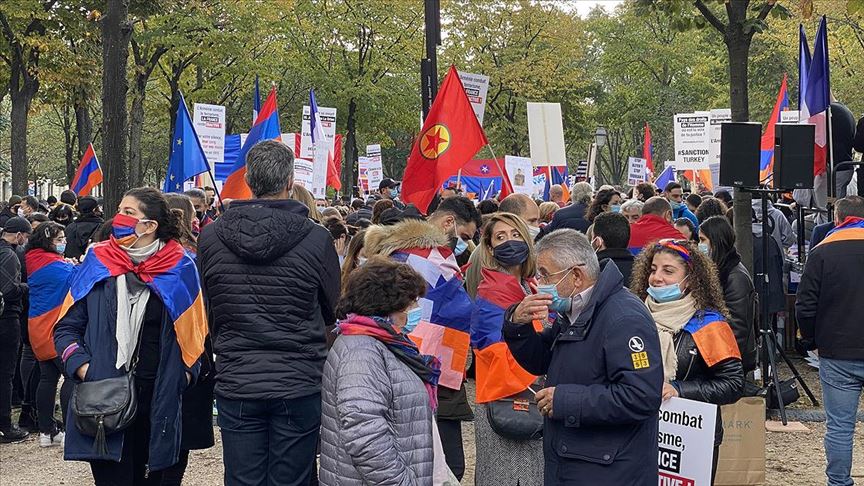 NAGORNO-KARABAKH ISSUE: ARMENIAN- PKK COLLUSION
The Nagorna-Karabakh conflict between Azerbaijan and Armenia which broke out in the wake of the dissolution of the Soviet Union has recently seen a bloody re-escalation after 30 years of relative peace. Karabakh is Azerbaijan territory, according to international law though the disputed region has been under Armenian occupation for years. Clashes re-erupted on September 27,2020 when Armenian forces opened fire on civilian residential areas in Azerbaijan on the Azerbaijan-Armenia border. Despite the ceasefire signed in Moscow on October 10,2020 to exchange prisoners and dead bodies, Yerevan breached the agreement and targeted the civilian areas again.
An Armenian battalion called "Nubar Ozanyan Battalion" was created in the PKK/YPG –controlled Tal Tamr in the north of Syria in 2019. Comprising people with Armenian origin from different countries who had extreme left-wing leanings, the battalion operated under PKK/YPG. Information indicates that with the eruption of clashes between Azerbaijan and Armenia PKK/YPG transferred terrorists from Iraq and the Armenian Battalions to fight in the ranks of Armenia. PKK/YPG members deployed at the Armenian frontlines referred to their "dire situation" in their radio communication the content of which was later exposed in open sources by the Azerbaijan Intelligence Agency.
Existence of PKK camp Armenia has been a matter of discussion for years though the public statement of Azerbaijan's President Ilham ALIYEV on October 14,2020 who said "We know about the PKK camps in Armenia" officially confirmed the allegations. PKK camps located in Armenia-Camps Vardenes by the Sevan Lake and the camp located in the Lachin Corridor-have been providing political, ideological and military training to terrorists.
It appears that Armenia has forged a collusion with PKK both on the table and in the field- a fact which found concrete verification in two recent incidents: Armenian soldiers caught by Azerbaijani forces during the clashes who turned out to be speaking Kurdish or Arabic and, joint protests by PKK members and the France-based Armenians outside the Embassy of Azerbaijan in Paris.