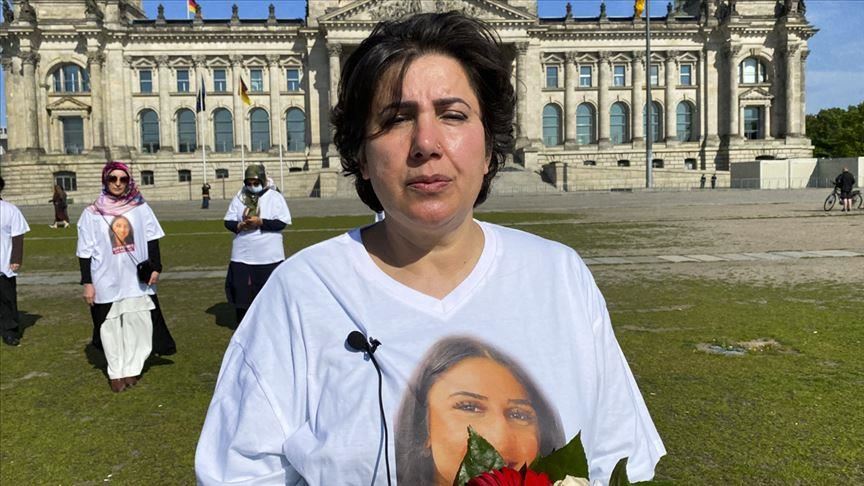 Germany: Mother longing for PKK-abducted daughter
A mother in Germany will mark Mother's Day on Sunday with a heavy heart as she has been longing for her daughter who was kidnapped by the PKK terror group.
Staging a protest in front of the Federal Assembly Brandenburg, Maide T. told reporters that she wants to meet her daughter as soon as possible.
"I cannot express my pain with words. I wish that God should not test any mother with her child," the woeful mother said.
"I want my child. I want my child to live. Our children do not deserve to die, they deserve to live," she added.
Nilufer, 20, left home for school on Nov. 12, Maide said, and has not been since heard.
The mother also reiterated her call for help of German Chancellor Angela Merkel and Interior Minister Horst Seehofer.
She also plans protest in front of the EU Commission and an association close to the terrorist organization in Brussels.
"I want to make voices of families whose children have been kidnapped by the terrorist organization PKK to be heard by European politicians," she added.
In Turkey, families of those whose children were abducted by the terror group have been staging a sit-in protest for more than 200 days outside the Diyarbakir office of the Peoples' Democratic Party (HDP), a party accused by the government of having links to the PKK terror group.
In its more than 30-year terror campaign against Turkey, the PKK — listed as a terrorist organization by Turkey, the US, and EU — has been responsible for the deaths of 40,000 people, including women, children and infants.
Source: Anadolu Agency