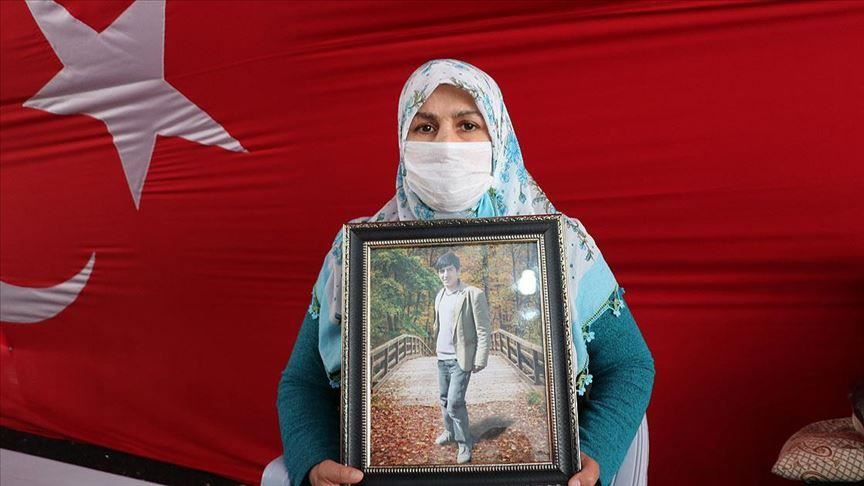 Families' sit-in against PKK continues in SE Turkey
A sit-in protest by families in southeastern Turkey entered its 249th day on Friday, with demonstrators demanding a terror-linked political party free their children from the YPG/PKK terrorist group.
Dozens of mothers launched the protest on Sept. 3, 2019, outside the offices of the Peoples' Democratic Party (HDP), a party accused by the government of having links to the YPG/PKK terror group.
Zumrut Salim, one of the protesting mothers, said her son Hamza was abducted by the terror group six years ago when he was just 14 years old.
"We are sitting here for our children. We would not leave without our children. We want our children from HDP. They took away our children," Salim said.
She pleaded to her son to come back and surrender to justice.
Suleyman Aydin, a protester whose son Ozkan was also abducted at the age of 15, said they will continue their protests.
"HDP is helping the kidnapping of children. We are sitting here in the holy month of Ramadan, with the coronavirus threat upon us, because we have no place to go. HDP should support us if they have the slightest of conscience," Aydin said.
People in Turkey linked to terrorist groups who surrender are eligible for possible sentence reductions under a repentance law.
In its more than 30-year terror campaign against Turkey, the PKK — listed as a terrorist organization by Turkey, the US, and EU — has been responsible for the deaths of 40,000 people, including women, children, and infants. The YPG is the PKK's Syrian offshoot.
Source: Anadolu Agency